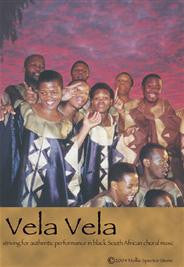 Vela Vela (book + dvd)
(Book+DVD) $34.99

Designed to help conductors, music educators and singers learn about black South African choral music, and learn to teach in the oral tradition. 
On Vela Vela you will watch as the University of Cape Town Choir for Africa performs and teaches seven traditional South African choral arrangements. Members of the choir will teach you each song, voice part by voice part, in the oral tradition. The singers will provide guidance on pronunciation, vocal tone, dance movements, and background information for each song.
Vela Vela also features  interviews in which the singers talk about the role music has played in their lives. The DVD comes with an extensive instruction booklet, containing helpful hints on how to use the video to teach the songs as authentically as possible. The booklet includes historical information about black South African choral music, translations of each song, IPA, and additional information about the project.
Songs included:
Lizela
Vela Vela
Shumayela
Ke nale Monna
Andikhatali
As' Kwaz'Ukuhamba
Ntakana
About Vela Vela
The Vela Vela DVD is designed to help choral conductors, music educators and singers to learn about black South African choral music, and learn to teach it in the oral tradition.  This project originated in 1996 when I toured South Africa as a member of the Chicago Children's Choir.In preparation for the tour, we learned South African songs that had been roughly transcribed and published.  When we arrived in South Africa, we couldn't believe how different the music sounded from what we had been taught.  Our rhythms had been over-simplified, the dance movements had been lost and we had no concept of the spirit of the music.
Years later, in graduate school, I watched students spend countless hours researching whether a Bach cantata should be performed with three people singing each part, or one, in an effort to perform the piece authentically.  I have seen very little of this dedication applied toward learning how to perform music from other cultures.
Too often, arrangers and publishers make "multi-cultural music" accessible by simplifying complicated rhythms, leaving out movement, loosely approximating pronunciation, and omitting explanations of the song's history and purpose. This does a great injustice to other cultures, because it perpetuates the stereotype that non-Western music is "primitive" and "simplistic." It also robs our own culture of the chance to learn about the rich beauty and power of music from other parts of the world.
I decided to go to South Africa to videotape black South African choirs teaching us how to perform their music. The Henry J. Kaiser Family Foundation generously sponsored the project. And before I knew it, I was filming the University of Cape Town Choir for Africa, and learning beautiful music. I interviewed the singers about how music has affected their lives, and learned about the powerful role music played in the freedom struggle, and how music is being used today in South Africa to spread information about HIV prevention.
When I returned to the United States, I created this DVD as a teaching tool to help musicians perform black South African choral music more authentically.
There are seven songs on the DVD. The viewer can hear each song performed, learn the individual voice-parts, dance movements, pronunciation, and background information from South African singers. There are also interviews in which South African singers talk about the power of music in their lives. I called the DVD "Vela Vela," which is the name of one of the songs we recorded. The words mean, "Come out, and let us see you." I hope that musicians everywhere can use this DVD to create informed, inspired performances of this rich musical tradition.
-- Mollie Stone