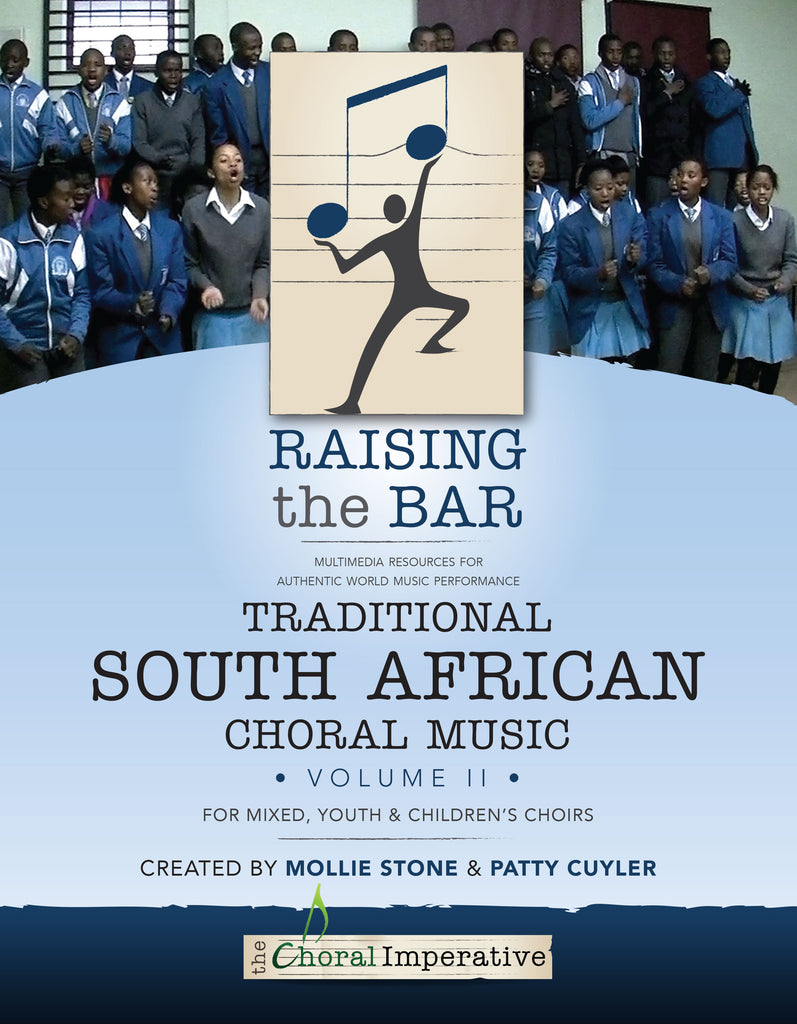 Raising the Bar: Traditional South African Choral Music Volume II (book + dvd)
Book + DVD
Created by Mollie Stone & Patty Cuyler
Created by Mollie Stone & Patty Cuyler, with Matlakala Bopape from Polokwane, South Africa


Six South African songs especially suited for SATB choir.

Our South African book + DVD sets will guide you through each song, voice part by voice part, so that you can learn to teach them in the oral tradition. The books offer specific guidance on pronunciation, vocal tone, dance movements, and includes reproduceable wordsheets with full translations and IPA and background information for each song. 

The teaching DVDs include all the voice parts, step-by-step instruction in the dance movements, clear pronunciation teaching video, and full performances by a special ensemble of singers aged 8-18 from the Chicago Children's Choir.
Listen to songs using our Bandcamp player:


Songs in this volume:
Likhon' ithemba lam (Xhosa church chorus)
Re dibini (Sotho folk song)
Ndisondela kuwe (Xhosa church chorus)
Swilo yini (Tsonga folk song)
Sesimfumene (Zulu wedding song)
Iindonga zaJeriko (Zulu folk/anti-apartheid song)
Lindblom Math & Science Academy (Chicago, IL) Spring Choir Concert 2013 performance of 'Iindonga zaJeriko':